18th International Congress of Christian Archaeology 
EARLY CHRISTIANITY BETWEEN LITURGICAL PRACTICE AND EVERYDAY LIFE
BELGRADE, 2–6 SEPTEMBER 2024
As you already know from the First Circular, The Institute of Archaeology, Belgrade, will host the 18th International Congress of Christian Archaeology in 2024. The Congress will be organised in cooperation with the main institutions of heritage protection, culture and education in our country, such as the National Museum of Serbia and the Faculty of Philosophy of the Belgrade University. It will also provide an excellent forum for the promotion and presentation of Christian cultural heritage. The main topics of the Congress can be found in the previous Circular.
The payment instructions can be found at the Congress website – Registration section. [1]Please note that the bank transaction costs are not included in the registration fees. Congress registration fee covers access to the welcome reception, all lectures, oral and poster sessions, coffee breaks, exhibitions and other events, as well as congress materials (including the Programme and Book of Abstracts) and the excursion to Sremska Mitrovica (Sirmium). The fee does not cover travel and accommodation expenses and the costs of optional excursions that will be organised immediately after the Congress; the printed Congress Proceedings are likewise not included in the fee.
For initial information about Belgrade and how to get around, please visit the website of the Tourist Organization of Belgrade.[2]
Please feel free to share this circular with any interested colleagues and students.
We would like to remind you that the registration has opened on May 1.
Please note the dates: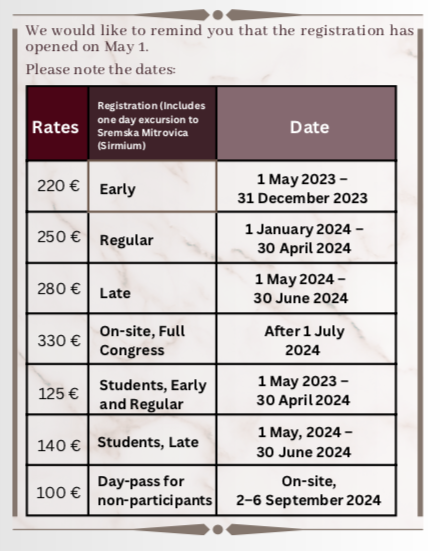 https://www.18ciac.com/wp-content/uploads/2023/06/18TH-CIAC-2nd-Circular.pdf